get A Fully-Restored and Gorgeous Smile in Dallas, TX
The lifestyle changes that you have to endure when you're missing a full set of teeth definitely aren't fun. They can range from having to make diet changes and losing confidence, to suffering from jawbone loss. However, with the placement of implant-retained dentures, there is a "silver lining" after all. To get on the road to smile recovery, contact our Park Cities – Dallas office to schedule an initial visit with Drs. Hamlett and La Mastra!
Reviews
"Dr. La Mastra is super cool and amazing, especially for someone who has dental phobia like me. I've been with him for years and followed him to his new place recently. He did my implant and crown which was a great experience. Dr. La Mastra is caring and I feel relaxed when he enters the room. The entire staff is friendly and helpful. His assistant Cindy is fun and conversational, my hygienist Cindy (same name) makes teeth cleaning comfortable and informative when it comes to oral care and Parker at the front desk makes you feel like family. Always a good experience!"
- K.M. /
Google /
Aug 04, 2021
"Carol the hygienist and Dr La Mastra are top notch. I avoided the dentist most of my life because I was afraid - but the entire office is super nice and welcoming."
- L.W. /
Google /
Oct 06, 2021
"I came to Texas 11 years ago and have been using Dr. Hamlett ever since.  He has done extensive work in my mouth including restoration after having implant.  I am not an easy patient to work on since I have a fear of dentist.   Dr. Hamlett and his staff have always taken this into account and handled me with extra care and compassion.  I will always remember Dr. Hamlett and his team fondly.Hugs,Teresa Taylor"
- T.T. /
Yelp /
Jun 15, 2021
"Dr. Hamlett has been my dentist for many years, and has done various procedures for my dental health. He has always done an excellent, professional job. He is kind, and terrific at making each treatment as comfortable and pleasant as possible. It is important to me that I trust him.I highly recommend him!"
- D.H. /
Google /
Jun 06, 2021
"I have been going to Dr. Hamlett for many years. He is professional, kind, and knows what he is doing! He has performed a number of services for me, and has always done an incredible job. I am always a little anxious getting dental work, but he makes it so much easier and much more pleasant. I trust him, and that is important to me! "
- D. /
Healthgrades /
Jun 06, 2021
Previous
Next
How Do Implant-Retained Dentures Work?
Unlike other forms of tooth replacement, the insertion of dental implants provides a complete tooth replacement from the root to the crown. In the case of a complete smile reconstruction, Drs. Hamlett and La Mastra will use the groundbreaking All-On-4 method, which provides a less-invasive way to replace a full set of teeth.
The process of inserting only four strategically-placed implants is especially helpful for patients who've suffered some jawbone loss, as your dentist will angle the fixtures to capture the densest parts of the underlying bone mass.
Then, after the implants have fused and the treatment site has healed, abutments will be added that act as anchors for a set of custom-made dentures to be permanently attached to.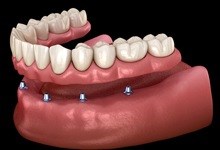 Am I a Candidate for Implant-Retained Dentures?
In general, implant-retained dentures are designed to help anyone who's been living without their teeth finally get their life back on track. But first, a careful examination is performed to ensure the best outcome. Because of the conservative approach that is taken, the dental implant process has a 95% success rate.
The best way for us to determine whether you're the right candidate for implant-retained dentures is to come in for a visit. We'll start by capturing some X-ray images so that our dentists can assess the amount of jawbone remaining and the current condition of your oral health.
Based on their findings, they will make any necessary recommendations, and throughout the entire process, you'll be able to ask any questions so you can feel comfortable about every aspect of the procedure.
The Implant-Retained Dentures Procedure in DALLAS, TX
Again, it's not uncommon for patients missing a full set of teeth to have some jawbone loss, so the All-On-4 method was designed with them in mind. By the implants being placed at a 45-degree angle, it reduces the chances of the patients needing a bone grafting procedure. That's because Drs. Hamlett and La Mastra will carefully locate the denser parts of the bone to place the implants.
The procedure can usually take six months or more to complete, as we'll make sure that you've healed sufficiently before we advance to the next phase. When it's all said and done, though, you'll have a beautiful new set of teeth that, with proper care, can last up to a lifetime.
Benefits of Combining Dentures & Dental Implants
The implant-retained denture procedure is an excellent representation of the constant innovation in the world of dentistry. It combines the aesthetic appeal that comes along with traditional dentures with the security that only dental implants can provide.
With implant-retained dentures, you can also look forward to regaining up to 95% of your original chewing capacity. Furthermore, you won't have to worry about them slipping or completely dislodging, and you'll be able to perform the normal dental hygiene practices of brushing and flossing.
To learn more about implant-retained dentures and to find out if they're right for you, contact us today to schedule a visit!
Implant-Retained Dentures FAQ
Does getting implant retained dentures hurt?
Many patients say that getting the implants for implant retained dentures is similar to getting a filling. While it is a surgical procedure, Dr. La Mastra or Dr. Hamlett will numb the treatment area with an anesthetic before they begin to keep you comfortable. If pain is a major concern, we offer oral sedation, nitrous oxide sedation, and IV sedation options to ensure your procedure is anxiety-free and without discomfort.
Can you remove implant retained dentures?
No, you can't. Implant retained dentures are affixed permanently in your mouth. That's why regular dental checkups are vital to maintaining proper oral health with implant retained dentures. You will still brush and floss them twice a day, the same as natural teeth, but you will need to schedule regular visits at Hamlett & La Mastra, DDS, for maintenance.
How long do implant-retained dentures last?
With proper oral hygiene, maintenance, and regular dental checkups, many people can expect their implant-retained dentures to last a lifetime.
How long does it take to get implant-retained dentures?
The surgery to install the implants usually takes about 1 – 2 hours for each implant placed. Often this will be done in two appointments. The healing process can take about six months, during which time you will wear temporary dentures. When you have fully healed, you'll receive your implant-retained dentures.
Related Procedures