Creating a Faster, Fully Restored Smile
Whether you've been told you don't qualify for dental implants or you simply want a faster, fully restored smile, All-On-4 might just be the solution for you. Drs. Hamlett and La Mastra are well-versed in dental implant placement, no matter how many teeth are missing. For patients who are missing an entire arch of teeth, All-On-4 offers the same stability, functionality, and longevity as traditional implants, except our dentists only use 4 implants to hold it in place! If you want to find out more about this unique tooth replacement solution or find out if you qualify, contact us to schedule a consultation today.
How Do All-On-4 Implants Work?
Drs. Hamlett and La Mastra use 4 dental implants in the appropriate position to hold your new smile in place. Using 4 titanium posts that mimic your natural tooth root, they will surgically place them in areas of your jawbone that are stronger and offer more density. An individual whose bone isn't quite strong enough may be told implants are not possible, but with All-On-4, we can strategically place them in areas where your bone is more durable, making it possible to achieve long-lasting results.
Before you leave, your dentist will secure your restoration in place, giving you a completed smile in no time at all.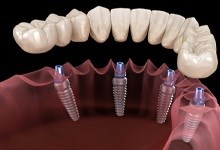 Am I a Candidate for All-On-4 Implants?
Before your implant dentist can make a decision as to whether you are a qualified candidate or not, he must complete a thorough examination of your entire mouth. By reviewing X-rays and performing a visual exam, they will be able to tell if implants will a proper method of treatment for you and your smile. You can also expect that once he has completed his review of your oral cavity, you will need to discuss your oral and medical history with him to ensure there are no underlying health problems that could negatively affect your implant placement.
As long as you have good oral and overall health and there are enough areas in your jawbone that implants can be placed, you should be a prime candidate for All-On-4.
What Are the Benefits of All-On-4 Implants?
No matter what type of implants you have, their benefits far exceed those of traditional restorations. Some of the great benefits associated with All-On-4 include:
Improved oral health – If you choose traditional dentures to replace your smile, you'll only be restoring the look, not the structure. All-On-4 mimics your tooth's root, which is designed to stimulate your jawbone and prevent it from deteriorating. This will improve your oral health and prevent additional issues from occurring, such as facial collapse, shifting teeth, or bite alignment issues.
Longer lasting: Traditional dentures require frequent relining, readjusting, and replacing. With implants of any kind, they are designed to last decades, if not a lifetime.
Fewer implants placed: Traditional implant-retained dentures can require between 4 and 6 implants to be placed along a single arch; however, with All-On-4, your implant dentist will carefully place 4 implants in designated areas to ensure they hold up your custom restoration.
All-On-4 vs. Traditional Dental Implants
By choosing All-On-4, you are making the right choice to improve the look of your smile and its health using one of the safest, most effective and reliable solutions. In comparison to traditional dental implants, there aren't many differences, except:
Greater affordability because of fewer implants used
It offers patients a faster method to a fully restored smile
Patients lacking in proper bone density can forgo bone grafting because of the way in which All-On-4 is placed
Patients spend much less time in recovery after implants are placed
Reviews
"Dr. La Mastra is super cool and amazing, especially for someone who has dental phobia like me. I've been with him for years and followed him to his new place recently. He did my implant and crown which was a great experience. Dr. La Mastra is caring and I feel relaxed when he enters the room. The entire staff is friendly and helpful. His assistant Cindy is fun and conversational, my hygienist Cindy (same name) makes teeth cleaning comfortable and informative when it comes to oral care and Parker at the front desk makes you feel like family. Always a good experience!"
- K.M. /
Google /
Aug 04, 2021
"Carol the hygienist and Dr La Mastra are top notch. I avoided the dentist most of my life because I was afraid - but the entire office is super nice and welcoming."
- L.W. /
Google /
Oct 06, 2021
"I came to Texas 11 years ago and have been using Dr. Hamlett ever since.  He has done extensive work in my mouth including restoration after having implant.  I am not an easy patient to work on since I have a fear of dentist.   Dr. Hamlett and his staff have always taken this into account and handled me with extra care and compassion.  I will always remember Dr. Hamlett and his team fondly.Hugs,Teresa Taylor"
- T.T. /
Yelp /
Jun 15, 2021
"Dr. Hamlett has been my dentist for many years, and has done various procedures for my dental health. He has always done an excellent, professional job. He is kind, and terrific at making each treatment as comfortable and pleasant as possible. It is important to me that I trust him.I highly recommend him!"
- D.H. /
Google /
Jun 06, 2021
"I have been going to Dr. Hamlett for many years. He is professional, kind, and knows what he is doing! He has performed a number of services for me, and has always done an incredible job. I am always a little anxious getting dental work, but he makes it so much easier and much more pleasant. I trust him, and that is important to me! "
- D. /
Healthgrades /
Jun 06, 2021
Previous
Next
How long do All-on-4 implants last?
If properly cared for, All-on-4 implants can last for many years. It is still important that you continue to attend your regular dental exams and cleanings to have your implants evaluated. Our team can also provide the necessary aftercare instructions to prolong the longevity of your implants.
Is All-on-4 painful?
All-on-4 implants will be placed under anesthesia. The numbing agent should ensure that you do not feel the placement of the implants. Additional sedation dentistry options may also be available for comfortable and relaxed treatments.
How do you care for All-on-4 implants?
All-on-4 implants can be cared for the same way as your natural teeth. This includes regular brushing and flossing, as well as attending routine dental appointments for maintenance. If you have any issues or concerns regarding your implants, you should seek care from a dental professional.
All For Better Smiles With All-on-4
The unique All-on-4 system makes it possible to fully restore your smile with just four dental implants and custom dentures. The technology used enables you to avoid the clutter and constraints that come with removable dentures for a result that looks and feels natural. Dr. Hamlett or Dr. La Mastra can clarify the benefits of All-on-4 and help you decide if you are a good candidate. Contact our office in Dallas, TX to set up a consultation.
Related Procedures