Creating a Faster, Fully Restored Smile
Whether you've been told you don't qualify for dental implants or you simply want a faster, fully restored smile, All-On-4 might just be the solution for you. Drs. Hamlett and La Mastra are well-versed in dental implant placement, no matter how many teeth are missing. For patients who are missing an entire arch of teeth, All-On-4 offers the same stability, functionality, and longevity as traditional implants, except our dentists only use 4 implants to hold it in place! If you want to find out more about this unique tooth replacement solution or find out if you qualify, contact us to schedule a consultation today.
How Do All-On-4 Implants Work?
Drs. Hamlett and La Mastra use 4 dental implants in the appropriate position to hold your new smile in place. Using 4 titanium posts that mimic your natural tooth root, they will surgically place them in areas of your jawbone that are stronger and offer more density. An individual whose bone isn't quite strong enough may be told implants are not possible, but with All-On-4, we can strategically place them in areas where your bone is more durable, making it possible to achieve long-lasting results.
Before you leave, your dentist will secure your restoration in place, giving you a completed smile in no time at all.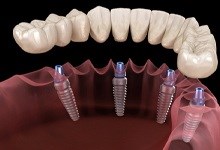 Am I a Candidate for All-On-4 Implants?
Before your implant dentist can make a decision as to whether you are a qualified candidate or not, he must complete a thorough examination of your entire mouth. By reviewing X-rays and performing a visual exam, they will be able to tell if implants will a proper method of treatment for you and your smile. You can also expect that once he has completed his review of your oral cavity, you will need to discuss your oral and medical history with him to ensure there are no underlying health problems that could negatively affect your implant placement.
As long as you have good oral and overall health and there are enough areas in your jawbone that implants can be placed, you should be a prime candidate for All-On-4.
What Are the Benefits of All-On-4 Implants?
No matter what type of implants you have, their benefits far exceed those of traditional restorations. Some of the great benefits associated with All-On-4 include:
Improved oral health – If you choose traditional dentures to replace your smile, you'll only be restoring the look, not the structure. All-On-4 mimics your tooth's root, which is designed to stimulate your jawbone and prevent it from deteriorating. This will improve your oral health and prevent additional issues from occurring, such as facial collapse, shifting teeth, or bite alignment issues.
Longer lasting: Traditional dentures require frequent relining, readjusting, and replacing. With implants of any kind, they are designed to last decades, if not a lifetime.
Fewer implants placed: Traditional implant-retained dentures can require between 4 and 6 implants to be placed along a single arch; however, with All-On-4, your implant dentist will carefully place 4 implants in designated areas to ensure they hold up your custom restoration.
All-On-4 vs. Traditional Dental Implants
By choosing All-On-4, you are making the right choice to improve the look of your smile and its health using one of the safest, most effective and reliable solutions. In comparison to traditional dental implants, there aren't many differences, except:
Greater affordability because of fewer implants used
It offers patients a faster method to a fully restored smile
Patients lacking in proper bone density can forgo bone grafting because of the way in which All-On-4 is placed
Patients spend much less time in recovery after implants are placed
Reviews
"What a good experience!"
- Anonymous /
Yelp /
Feb 19, 2021
"Amazing appointment. Great explanation of my dental health options."
- Anonymous /
Facebook /
Feb 19, 2021
"Dr. La Mastra is an amazing dentist!"
- Anonymous /
Google /
Feb 19, 2021
"The quality and care of their services are always outstanding!"
- R.V. /
Google /
Oct 22, 2020
"Dr.Hamlett is the finest doctor I have ever met."
- O.T. /
Google /
Oct 22, 2020
Previous
Next
Related Procedures