OraVerse® is a breakthrough product that reverses the numbing effects of anesthesia. When you receive certain dental treatments, Dr. Hamlett will use a local anesthetic to ensure your comfort. For some patients, the numbing effects of anesthesia linger for a short while after your visit ends. Your speech, your smile, and your ability to eat or drink can be affected. With OraVerse®, you can get back to your regular life quickly and comfortably. Ask Dr. Hamlett if OraVerse® is an option during your recommended treatment.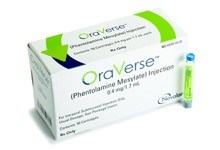 What Are The Benefits Of OraVerse?
OraVerse allows you to feel normal faster with a number of great benefits, including:
Reduces the chance for a biting injury to the mouth
Cuts recovery time by an average of 85 minutes
Recovery time is typically only about 50 – 70 minutes
Virtually painless since you're already numb from the anesthesia
Safe for the majority of patients
Has no known drug interactions
Reviews
"Dr. La Mastra is super cool and amazing, especially for someone who has dental phobia like me. I've been with him for years and followed him to his new place recently. He did my implant and crown which was a great experience. Dr. La Mastra is caring and I feel relaxed when he enters the room. The entire staff is friendly and helpful. His assistant Cindy is fun and conversational, my hygienist Cindy (same name) makes teeth cleaning comfortable and informative when it comes to oral care and Parker at the front desk makes you feel like family. Always a good experience!"
- K.M. /
Google /
Aug 04, 2021
"Carol the hygienist and Dr La Mastra are top notch. I avoided the dentist most of my life because I was afraid - but the entire office is super nice and welcoming."
- L.W. /
Google /
Oct 06, 2021
"I came to Texas 11 years ago and have been using Dr. Hamlett ever since.  He has done extensive work in my mouth including restoration after having implant.  I am not an easy patient to work on since I have a fear of dentist.   Dr. Hamlett and his staff have always taken this into account and handled me with extra care and compassion.  I will always remember Dr. Hamlett and his team fondly.Hugs,Teresa Taylor"
- T.T. /
Yelp /
Jun 15, 2021
"Dr. Hamlett has been my dentist for many years, and has done various procedures for my dental health. He has always done an excellent, professional job. He is kind, and terrific at making each treatment as comfortable and pleasant as possible. It is important to me that I trust him.I highly recommend him!"
- D.H. /
Google /
Jun 06, 2021
"I have been going to Dr. Hamlett for many years. He is professional, kind, and knows what he is doing! He has performed a number of services for me, and has always done an incredible job. I am always a little anxious getting dental work, but he makes it so much easier and much more pleasant. I trust him, and that is important to me! "
- D. /
Healthgrades /
Jun 06, 2021
Previous
Next
Am I A Candidate For OraVerse?
Anyone who is undergoing a dental procedure that requires an injected local anesthetic and wants to quickly recover from the effects, which include numbness in the tongue, mouth, and jaw, is an ideal candidate for OraVerse. In studies, OraVerse was shown to be highly effective and safe for most adults and even children. Safety for children younger than three or weighing less than 33 lbs. and women who are pregnant or nursing has not been established.
When Dr. Hamlett or Dr. La Mastra gives you an injection of a local anesthetic to numb your mouth for treatment, it contains a vasoconstrictor that works to restrict blood flow — so the anesthetic effect will last longer. OraVerse contains a vasodilator that reverses the effect by returning normal blood flow to the area, making the numbing effect wear off quicker. They will give you an injection of OraVerse while you are still numb, so you don't even feel it. Instead of having to wait hours for the anesthetic to wear off, after an OraVerse injection, within about 50 — 70 minutes, sensation and function will return, allowing you to talk, eat, and drink normally.
What Can I Expect After OraVerse?
Following your OraVerse injections, you can expect your numbness to dissipate within around 50 minutes for the top lip and about 70 minutes for the lower lip. You will be able to return to your normal daily routine without the inconvenience of a numb smile. This includes returning to regular eating, drinking, and speaking.
Is OraVerse safe?
The active ingredient in OraVerse (phentolamine mesylate) is approved by the FDA as safe and effective and has been in use for medical applications since 1952.
What does OraVerse do?
OraVerse is a vasodilator, a drug that widens the blood vessels to increase blood flow. In the application of OraVerse, it is to speed up the return of normal feeling after receiving a local anesthetic during a dental procedure.
How fast does OraVerse work?
Studies have shown that OraVerse can return normal sensation to your mouth (lips, tongue, and cheeks) in as little as an hour.
What are the side effects of OraVerse?
OraVerse has very few reported side effects, the most common being temporary swelling. If you have any concerns about whether OraVerse is right for your needs, be sure to discuss them with our team prior to your procedure.
Why choose our clinic for OraVerse?
Our staff is highly trained in the use of OraVerse and will work with you to ensure that you are safe and comfortable during your procedure. We want you to have the best experience possible, which is why we offer this unique service.
Faster Recovery After Anesthesia
With the help of OraVerse, it's possible to get back to your normal life more quickly after dental treatments. This cutting-edge option helps local anesthetic wear off within about an hour of injection. The team at Hamlett & La Mastra, DDS specializes in providing OraVerse for patients at our Dallas, TX office. Please contact us now to set up an appointment and learn more.
Related Procedures