Your Guide to Getting Dental Implants
Dental implants offer an excellent way to invest in your smile after tooth loss. If you are missing (or on the brink of losing) 1, 2, or an entire arch of teeth, you can't go wrong with this comprehensive option. Most dental implant procedures take place over the course of 6 to 8 months but can last longer in some cases. Keep reading to learn more about the process for dental implants in Dallas, and how you can prepare for an upcoming procedure!
The first phase of the dental implant process involves treatment planning and all the preparation for the placement of each implant post.
This part of the procedure includes the following steps:
Consultation: During an initial visit, you and Dr. Hamlett will discuss your smile goals and they will examine your mouth to determine whether dental implants are a good option for you. If the answer is yes, you will proceed to the next stages.
Treatment planning: Often in a separate appointment, the treatment planning phase can begin. X-rays and impressions (or molds) of your mouth and any remaining natural teeth will be taken. Your dentist will plan for exactly where the implants will go.
Bone grafting: Many patients need to have a bone graft or sinus lift procedure to strengthen weak bone tissue and increase the chances of dental implant success.
Placement: Implant placement is an oral procedure that is completed under local anesthesia and sedation as needed for additional relaxation. Using the details of your treatment plan, Dr. Hamlett will open the gums and place each post with extreme precision. Then, the gums are closed, and healing begins.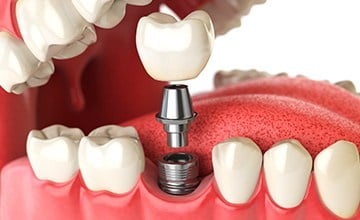 The recovery phase of a dental implant procedure may last up to 6 months, depending on the location of the teeth and how healthy the jaw was, to begin with. Once the implants are secure, the restoration process can begin.
Phase 2 includes the following steps:
Placement of abutments: Traditional dental implants require abutments or connecting pieces that allow a prosthetic tooth to be affixed on top of the implant post. The gums are opened, and an abutment is placed on each post. One more brief healing period will be required.
Restoration: After the gums have healed yet again, the implant posts are ready for restoration. The crown, bridge, or denture can be placed on top of the connecting abutments -- and that's it!
Follow-up: We will schedule a follow-up appointment some weeks following the final restoration of the implants to ensure everything is working just like it should.
Dental implant procedures involve many steps and take a while to complete -- but they are totally worth it in the end. After all, nothing else gives you a complete, healthy, confident smile after tooth loss like dental implants.
Reviews
"Dr. La Mastra is super cool and amazing, especially for someone who has dental phobia like me. I've been with him for years and followed him to his new place recently. He did my implant and crown which was a great experience. Dr. La Mastra is caring and I feel relaxed when he enters the room. The entire staff is friendly and helpful. His assistant Cindy is fun and conversational, my hygienist Cindy (same name) makes teeth cleaning comfortable and informative when it comes to oral care and Parker at the front desk makes you feel like family. Always a good experience!"
- K.M. /
Google /
Aug 04, 2021
"Carol the hygienist and Dr La Mastra are top notch. I avoided the dentist most of my life because I was afraid - but the entire office is super nice and welcoming."
- L.W. /
Google /
Oct 06, 2021
"I came to Texas 11 years ago and have been using Dr. Hamlett ever since.  He has done extensive work in my mouth including restoration after having implant.  I am not an easy patient to work on since I have a fear of dentist.   Dr. Hamlett and his staff have always taken this into account and handled me with extra care and compassion.  I will always remember Dr. Hamlett and his team fondly.Hugs,Teresa Taylor"
- T.T. /
Yelp /
Jun 15, 2021
"Dr. Hamlett has been my dentist for many years, and has done various procedures for my dental health. He has always done an excellent, professional job. He is kind, and terrific at making each treatment as comfortable and pleasant as possible. It is important to me that I trust him.I highly recommend him!"
- D.H. /
Google /
Jun 06, 2021
"I have been going to Dr. Hamlett for many years. He is professional, kind, and knows what he is doing! He has performed a number of services for me, and has always done an incredible job. I am always a little anxious getting dental work, but he makes it so much easier and much more pleasant. I trust him, and that is important to me! "
- D. /
Healthgrades /
Jun 06, 2021
Previous
Next
Related Procedures