No More Gaps in Your Smile
A fully functional set of teeth can sometimes be taken for granted, but when there is any tooth loss, it suddenly becomes evident how important each of your ivories is for carrying out simple tasks like chewing food and speaking. Thankfully, if you've been living with any number of missing teeth, you can benefit from the most reliable replacement method available: dental implant insertion. The road to recovery starts with contacting our Park Cities – Dallas office to schedule a visit with Drs. Hamlett and La Mastra. With their help, you can finally regain the life you once had!
Initial Dental Implant Consultation
The first step in having your smile restored is to visit our office to meet Drs. Hamlett and La Mastra. While you're here, they will take the time to carefully assess your oral health. Therefore, if you need to receive any restorative care before having dental implants placed, it can be taken care of to ensure you have a successful procedure.
Additionally, Drs. Hamlett and La Mastra will take into account the number of teeth you have missing, as well as the condition and the amount of jawbone you have remaining. They'll factor all of these components into determining your eligibility for dental implant placement and to arrive at a final cost. Thus, you'll be armed with all the pertinent information you need to make an educated decision.
Reviews
"Dr. La Mastra is super cool and amazing, especially for someone who has dental phobia like me. I've been with him for years and followed him to his new place recently. He did my implant and crown which was a great experience. Dr. La Mastra is caring and I feel relaxed when he enters the room. The entire staff is friendly and helpful. His assistant Cindy is fun and conversational, my hygienist Cindy (same name) makes teeth cleaning comfortable and informative when it comes to oral care and Parker at the front desk makes you feel like family. Always a good experience!"
- K.M. /
Google /
Aug 04, 2021
"Carol the hygienist and Dr La Mastra are top notch. I avoided the dentist most of my life because I was afraid - but the entire office is super nice and welcoming."
- L.W. /
Google /
Oct 06, 2021
"I came to Texas 11 years ago and have been using Dr. Hamlett ever since.  He has done extensive work in my mouth including restoration after having implant.  I am not an easy patient to work on since I have a fear of dentist.   Dr. Hamlett and his staff have always taken this into account and handled me with extra care and compassion.  I will always remember Dr. Hamlett and his team fondly.Hugs,Teresa Taylor"
- T.T. /
Yelp /
Jun 15, 2021
"Dr. Hamlett has been my dentist for many years, and has done various procedures for my dental health. He has always done an excellent, professional job. He is kind, and terrific at making each treatment as comfortable and pleasant as possible. It is important to me that I trust him.I highly recommend him!"
- D.H. /
Google /
Jun 06, 2021
"I have been going to Dr. Hamlett for many years. He is professional, kind, and knows what he is doing! He has performed a number of services for me, and has always done an incredible job. I am always a little anxious getting dental work, but he makes it so much easier and much more pleasant. I trust him, and that is important to me! "
- D. /
Healthgrades /
Jun 06, 2021
Previous
Next
The dental implant procedure is unlike any other form of tooth replacement. That's because it provides a way to replace the entire tooth structure, from the root to the crown. Since the structure is completely self-sufficient, there is no need to damage or alter the surrounding teeth, and it ensures you a lasting and secure replacement. The process starts with Drs. Hamlett and La Mastra numbing the treatment site so you can have a painless experience. They will then make an incision into the gums to gain access to the jawbone. After drilling a small hole, they will attach the cylinder-shaped titanium dental implant.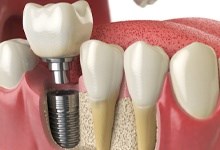 Dental Implant Osseointegration & Abutment
After the initial placement of the dental implant, you'll need time to heal, which can vary with each patient. The average period can be from six to nine months. During this phase, another important process will occur: the fusing of the implant with your jawbone. Referred to as osseointegration, it is one of the key features of the dental implant process that contributes to an overall success rate of 95%.
Through the natural marrying of the implant and your existing bone, you'll be left with a degree of sturdiness and security that is only rivaled by the original tooth root. Later, a titanium abutment will be added, which will act as an anchor for the final restoration to be securely attached to.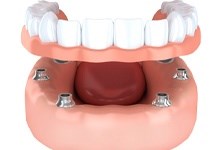 Placement of Dental Restorations
The type of dental restoration you receive is mainly dependent upon the number of teeth that are being replaced. No matter what your situation is, Drs. Hamlett and La Mastra have a solution to meet your needs.
If only one tooth is being replaced, you'll need an implant-retained crown, which is custom-crafted from high-grade porcelain. For multiple missing teeth, an implant-retained bridge works perfect. Unlike a traditional fixed bridge, it doesn't require any alterations to the surrounding teeth.
To replace a full set of teeth, your implant dentist can strategically place a series of implants that a set of dentures can be permanently fastened to. Thus, you won't have to worry about any slipping or shifting.
To get more information about how the dental implant procedure works, don't hesitate to contact our Park Cities – Dallas office today to request a visit.
Restore Your Smile with Dental Implants
We understand that the process of replacing a lost tooth may seem intimidating, but with the help of Drs. Hamlett and La Mastra, you can have the full set of teeth that you deserve in no time. So if you're ready to take back your confidence and begin smiling again, don't hesitate to contact our Park Cities – Dallas office today! Our dental implant professionals are dedicated to providing the highest quality care at all times.
Related Procedures