The most modern way to replace missing teeth, a dental implant, offers a patient the opportunity for a permanent restoration that closely resembles their natural teeth that also offers the added benefit of aesthetic enhancement. Implants are designed to replace a tooth both above and below the gum line, helping them recreate real teeth in every way. Better yet, thanks to the high-quality materials used, they can easily be trusted to last for 30 years or more.
Beautiful & Long-lasting Tooth Replacement
A dental implant is a special, surgical grade titanium post, manufactured to highly precise specifications, that is surgically inserted into the jawbone below the gum surface. As the bone bonds to the implant, it forms a secure foundation onto which your new teeth are then attached and shaped to match your mouth. With proper use of the newest anesthetics and medications, you need not be concerned about pain. The entire procedure can be completed at our dental office.
Reviews
"What a good experience!"
- Anonymous /
Yelp /
Feb 19, 2021
"Amazing appointment. Great explanation of my dental health options."
- Anonymous /
Facebook /
Feb 19, 2021
"Dr. La Mastra is an amazing dentist!"
- Anonymous /
Google /
Feb 19, 2021
"The quality and care of their services are always outstanding!"
- R.V. /
Google /
Oct 22, 2020
"Dr.Hamlett is the finest doctor I have ever met."
- O.T. /
Google /
Oct 22, 2020
Previous
Next
Indications for Dental Implants
Dental implants are very versatile and can be used with a number of different restorations in order to bring back any number of missing teeth. At a consultation with Dr. Hamlett, he can help you figure out which of the following options best suits your needs:
Missing One Tooth
If you are missing one tooth, then Drs. Hamlett and La Mastra will place a single dental implant at that site. After several months of healing and when the implant and surrounding bone have integrated, an abutment and porcelain crown will be attached to the implant.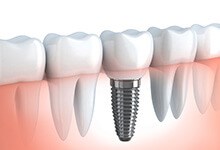 Missing Multiple Teeth
Instead of replacing consecutive missing teeth with individual implants, one or two implants can be used to support multiple prosthetic teeth that successfully fill in the gap, forming a dental bridge. Compared to regular bridges, implant-retained ones are more secure, look more natural, and last longer as well.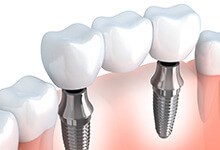 Missing All of Your Teeth
For patients that are missing all of their teeth along one arch or even both, there are implant-supported dentures. Several implants are positioned along the jaw to anchor the dentures. On the underside of your dentures is a metal fitting that secures your dental implants. Your dentures are firmly held in place, so you have a smile that looks natural and remains secure when you eat, talk, laugh or smile.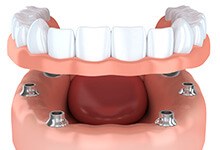 To begin the procedure, Drs. Hamlett and La Mastra ensure your comfort and safety. A local anesthetic is administered to numb the site and the surrounding tissue. We also offer sedation dentistry if you need a little bit of extra help relaxing during the procedure.
Then, a small incision is made in your gum tissue to expose the bone underneath. The implants are surgically positioned in your jaw to offer the greatest security for your eventual tooth restoration.
After the procedure, minor bleeding and swelling are to be expected. If you are experiencing discomfort, then an over-the-counter pain reliever should suffice. For the first few days after your oral surgery, you may want to stick to a diet of softer foods. Within the week, however, your gums should be healed so that you can eat whatever you like.
Start to Finish Convenience
The dental implant procedure consists of two main phases: placement and restoration. For surgical placement, most offices typically have to refer a patient out to a specialist. However, to give our implant patients the smoothest and most comfortable journey to their new smiles, our dentists are able to provide both portions of the procedure in-house. This approach not only helps a patient save time and money, but it also means they're able to work with the same dentist and team that they trust from beginning to end, which is great for peace of mind.
If you have any number of missing teeth, then you may be an excellent candidate for dental implants. While dental implant insertion is considered to be the gold standard for tooth replacement, if you're like most people, then you likely have some questions about how the procedure works. To provide greater understanding, Drs. Hamlett and La Mastra answer four commonly asked questions about the dental implant process.
Will dental implant surgery be painful?
The last thing you want is to endure a torturous procedure. When it comes to dental implant placement, you don't have to worry about any excruciating pain. In fact, you won't feel any discomfort at all. That's because Drs. Hamlett and La Mastra will make sure that the treatment site is completely numb before any work commences.
However, once the initial placement is done and the numbing medication wears off, you can expect some discomfort. You have nothing to worry about, though. Typically, an over-the-counter pain reliever is a sufficient solution. If that doesn't work, then your dentist can prescribe a stronger medication.
What should I do to encourage healing?
One of the more attractive features of dental implant placement is that the procedure has a 95% success rate. While maintaining this standard partly depends on the skills of your implant dentist, you also play a significant role in the process. Your post-surgery activities will factor greatly into the healing process.
During the first 10 days after surgery, it's a good idea to maintain a soft-food diet, which should include such items as smoothies, mashed potatoes, apple sauce, and other foods that don't require chewing. You should also avoid using straws, as it can cause the blood clot to dislodge and contribute to a dental emergency.
How long can I expect my dental implant to last?
Since dental implant insertion is an involved process, you want to know that it will stand the test of time. The good news is that with proper care, which should include brushing and flossing at least two times a day, and visiting our office for cleanings and examinations on a regular basis, it's quite possible for your dental implant to last for 30 years to a lifetime.
Thus, once you choose the dental implant route, you're making a long-term commitment to your oral health. This degree of permanence further solidifies the dental implant process as a one-of-a-kind method of tooth replacement.
Will my new smile look natural?
The insertion of a dental implant into the jawbone provides more than just functional benefits. By mimicking the original tooth root in function and proximity, it yields a natural-looking smile. This is one of the ways that the dental implant process differs from other forms of tooth replacement, which only replace the part of a missing tooth above the gum line.
Whereas a fixed bridge or a set of dentures can be prone to shifting, slipping, or completely dislodging as the structure of your jaw changes, once a dental implant is placed, it's locked into position just like your original teeth. Thus, you'll be able to smile with the confidence of knowing that no one will be able to differentiate your new implants from your original teeth.
Related Procedures