The most modern way to replace missing teeth, a dental implant, offers a patient the opportunity for a permanent restoration that closely resembles their natural teeth that also offers the added benefit of aesthetic enhancement. Implants are designed to replace a tooth both above and below the gum line, helping them recreate real teeth in every way. Better yet, thanks to the high-quality materials used, they can easily be trusted to last for 30 years or more.
What Are The Benefits Of Dental Implants?
Implant-supported restorations are generally selected for a number of reasons. As efficient restorations, implants:
Can increase your confidence when talking and any time your teeth show
Never make use of nearby teeth to remain in position
Function as a long-term tooth restoration alternative
Act as natural teeth in function and visual appeal
Enable the consumption of a well-rounded diet
Incorporate with the bone tissues to sustain jawbone wellness and function
Offer increased chewing power and lifespan of dental restorations
Am I A Candidate For Dental Implants?
The best candidates for dental implants are women and men who are missing one tooth, multiple teeth, or all their teeth and want a strong, beautiful, permanent improvement to their smile. Ideal candidates are people who:
Are missing one or more teeth
Are in good overall health
Have enough bone and gum tissue to support implants
Do NOT have periodontal disease (gum disease)
Do NOT have uncontrolled diabetes
Have not been recently treated for cancer
Beautiful & Long-lasting Tooth Replacement
A dental implant is a special, surgical grade titanium post, manufactured to highly precise specifications, that is surgically inserted into the jawbone below the gum surface. As the bone bonds to the implant, it forms a secure foundation onto which your new teeth are then attached and shaped to match your mouth. With proper use of the newest anesthetics and medications, you need not be concerned about pain. The entire procedure can be completed at our dental office.
Reviews
"Dr. La Mastra is super cool and amazing, especially for someone who has dental phobia like me. I've been with him for years and followed him to his new place recently. He did my implant and crown which was a great experience. Dr. La Mastra is caring and I feel relaxed when he enters the room. The entire staff is friendly and helpful. His assistant Cindy is fun and conversational, my hygienist Cindy (same name) makes teeth cleaning comfortable and informative when it comes to oral care and Parker at the front desk makes you feel like family. Always a good experience!"
- K.M. /
Google /
Aug 04, 2021
"Carol the hygienist and Dr La Mastra are top notch. I avoided the dentist most of my life because I was afraid - but the entire office is super nice and welcoming."
- L.W. /
Google /
Oct 06, 2021
"I came to Texas 11 years ago and have been using Dr. Hamlett ever since.  He has done extensive work in my mouth including restoration after having implant.  I am not an easy patient to work on since I have a fear of dentist.   Dr. Hamlett and his staff have always taken this into account and handled me with extra care and compassion.  I will always remember Dr. Hamlett and his team fondly.Hugs,Teresa Taylor"
- T.T. /
Yelp /
Jun 15, 2021
"Dr. Hamlett has been my dentist for many years, and has done various procedures for my dental health. He has always done an excellent, professional job. He is kind, and terrific at making each treatment as comfortable and pleasant as possible. It is important to me that I trust him.I highly recommend him!"
- D.H. /
Google /
Jun 06, 2021
"I have been going to Dr. Hamlett for many years. He is professional, kind, and knows what he is doing! He has performed a number of services for me, and has always done an incredible job. I am always a little anxious getting dental work, but he makes it so much easier and much more pleasant. I trust him, and that is important to me! "
- D. /
Healthgrades /
Jun 06, 2021
Previous
Next
Indications for Dental Implants
Dental implants are very versatile and can be used with a number of different restorations in order to bring back any number of missing teeth. At a consultation with Dr. Hamlett, he can help you figure out which of the following options best suits your needs:
Missing One Tooth
If you are missing one tooth, then Drs. Hamlett and La Mastra will place a single dental implant at that site. After several months of healing and when the implant and surrounding bone have integrated, an abutment and porcelain crown will be attached to the implant.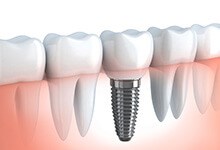 Missing Multiple Teeth
Instead of replacing consecutive missing teeth with individual implants, one or two implants can be used to support multiple prosthetic teeth that successfully fill in the gap, forming a dental bridge. Compared to regular bridges, implant-retained ones are more secure, look more natural, and last longer as well.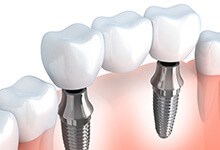 Missing All of Your Teeth
For patients that are missing all of their teeth along one arch or even both, there are implant-supported dentures. Several implants are positioned along the jaw to anchor the dentures. On the underside of your dentures is a metal fitting that secures your dental implants. Your dentures are firmly held in place, so you have a smile that looks natural and remains secure when you eat, talk, laugh or smile.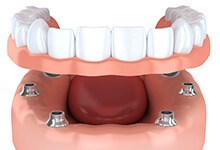 To begin the procedure, Drs. Hamlett and La Mastra ensure your comfort and safety. A local anesthetic is administered to numb the site and the surrounding tissue. We also offer sedation dentistry if you need a little bit of extra help relaxing during the procedure.
Then, a small incision is made in your gum tissue to expose the bone underneath. The implants are surgically positioned in your jaw to offer the greatest security for your eventual tooth restoration.
After the procedure, minor bleeding and swelling are to be expected. If you are experiencing discomfort, then an over-the-counter pain reliever should suffice. For the first few days after your oral surgery, you may want to stick to a diet of softer foods. Within the week, however, your gums should be healed so that you can eat whatever you like.
What happens after treatment?
Men and women who have this treatment may have a small amount of swelling, discoloration, and discomfort around the impacted spot. Prescribed or over-the-counter pain medication and ice packs may help manage some post-op aches or pains. Once the metal implant has combined with the bone tissue and the personal restoration is attached, it's critical to maintain a good oral cleaning regimen with daily brushing and flossing practices. When patients schedule with Drs Hamlett and La Mastra for their regular dental cleanings, we will utilize precise dental tools to clean their dental implants and check up on the state of their restorations.
Start to Finish Convenience
The dental implant procedure consists of two main phases: placement and restoration. For surgical placement, most offices typically have to refer a patient out to a specialist. However, to give our implant patients the smoothest and most comfortable journey to their new smiles, our dentists are able to provide both portions of the procedure in-house. This approach not only helps a patient save time and money, but it also means they're able to work with the same dentist and team that they trust from beginning to end, which is great for peace of mind.
How much do dental implants cost?
The price of dental implants will vary from one patient to another, though they are usually within the range of about $1,000 – $4,500. This cost accounts for the implant itself, the support post, and the crown. However, in some cases, a bone graft may be necessary, which will increase the price of the procedure.
Are dental implants painful?
In order to alleviate as much pain as possible for our patients, we will administer local anesthesia before beginning the procedure. This will ensure the nerves in the surrounding area are numb, enhancing the comfort of the patient while the implants are inserted. Our patients typically do not experience pain, though they do describe feeling some pressure during certain points of the session.
Should I receive dentures or dental implants?
While dentures are removable, dental implants are permanent replacements for your teeth. This makes them much more desirable as there is no concern with constantly taking them in and out or restricting your diet to avoid damaging the dentures. Additionally, they are much easier to maintain, leading to fewer appointments in our office. However, dental implants can be costly in comparison to dentures, which can be a deciding factor for patients on a budget.
How long can I expect my dental implant to last?
Since dental implant insertion is an involved process, you want to know that it will stand the test of time. The good news is that with proper care, which should include brushing and flossing at least two times a day, and visiting our office for cleanings and examinations on a regular basis, it's quite possible for your dental implant to last for 30 years to a lifetime.
Related Procedures